This year, University of Lodz Library, invited the University of Lodz community (and not only!) for the 13th time to a series of meetings in the form of workshops, which took place on 24-30 October. In line with this year's slogan of the Open Access Week: Open for Climate Justice the meetings focused on the issues concerning climate security and sustainable development.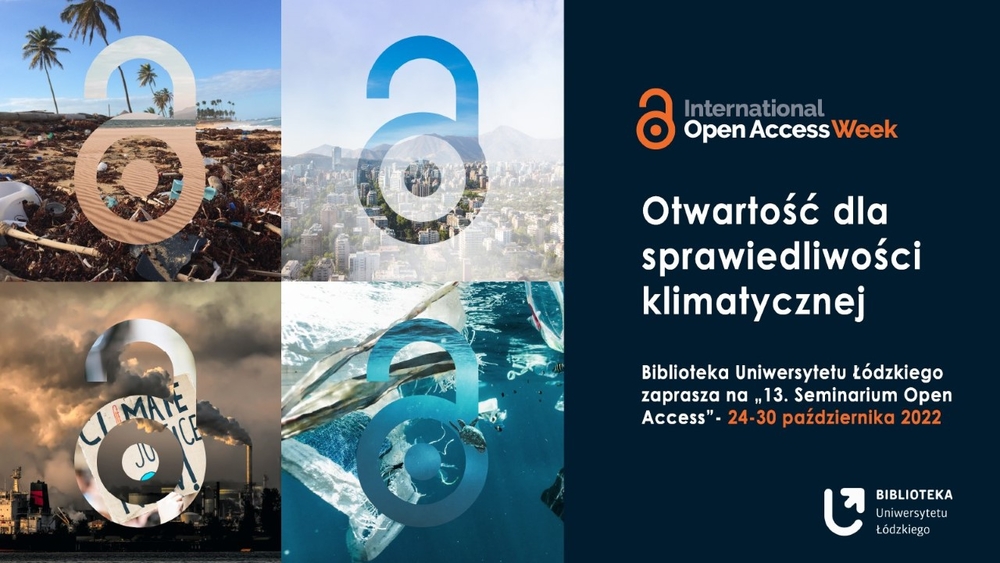 The guests included: Dr Joanna Stojak from the Polish Academy of Sciences, who talked about the MammalNet citizen science project ("MammalNet – i Ty możesz zostać naukowcem!"), dr hab. Krzysztof Pabis, UL Professor, researcher and science promoter from the Department of Invertebrate Zoology and Hydrobiology, Faculty of Biology and Environmental Protection, University of Lodz ("Otwartość nauki, promocja i popularyzacja – zmienne punkty widzenia, realne potrzeby"), Bartłomiej Więckowski from Elsevier, specialist in databases and analytical tools ("Możliwości narzędzi analitycznych w kontekście zrównoważonego rozwoju (SDGs)"), as well as Natalia Galica, chief expert on Open Science at the National Science Centre ("Otwarte dane badawcze a globalne wyzwania").
The workshops were attended by students, doctoral students and researchers from the University of Lodz, as well as other people interested in science and its promotion – high school students and teachers, librarians and employees of other universities. Throughout the week, posts promoting open learning, including those in the context of actions for climate also appeared on the social media of the UL Library.
The meetings in virtual space encouraged more than a hundred people to sign up – the interest in opening science, making research results available and science resources more attractive shows that the International Open Science Week is an initiative, which is still needed and Polish institutions should join it. The event, organised by the Reference and Bibliometric Analysis Department of the University of Lodz Library, was held under the Honorary Patronage of the Rector of the University of Lodz.
Materials from the 13th Open Access Seminar can be found in the University of Lodz Repository under open licences, in line with the concept of openness.